The Tecno Phantom V Fold has come out of nowhere and caused a bit of a stir with foldable phone fans. The brand is still relatively unheard of in the UK and the US, despite being a major player in African and Asian markets.
Now, it has launched a flagship foldable device that goes toe-to-toe with the market leader on specs, and does so at a significantly lower cost. So it's easy to see why people are so intrigued.
If you're in the market for a tablet-style folding phone, you might be wondering if you could save some cash and go with the Phantom V Fold, or if you should stick with the popular choice, the Galaxy Z Fold 4.
In this article, we'll compare every aspect of these devices, with the goal of making that decision a little easier.
Tecno

Tecno Phantom V Fold

We are extremely impressed with the Phantom V Fold, not only does it perform well and look great, but it does so as one of the cheapest tablet-style foldables on the market today.

Samsung

Samsung Galaxy Z Fold 4

More of a refinement than a reinvention when compared with last year's Z Fold 3, the latest foldable is greatly improved in some crucial areas.
Price and availability
Tecno Phantom V Fold: 12+256GB $1,099 / 12+512GB $1,222

Launching in India first, with other markets to follow

Samsung Galaxy Z Fold 4: 12+256GB $1,799 / 12+512GB $1,920 / 12GB+1TB $2160
The first hurdle could potentially be a large one, depending on where you live. The Phantom V Fold is launching in India, initially, and we're not exactly sure which regions will be able to get their hands on it long-term.
If you're able to get your hands on one, it offers exceptional value for money, with the base model costing $700 less than the Galaxy Z Fold equivalent. Plus, there's an early bird deal that'll knock an additional $120 off the asking price.
The Samsung Galaxy Z Fold 4, on the other hand, is available in all major markets, so getting one is unlikely to present much of an issue. It is an undeniably expensive device, though, so you'll have to be ready to part with some significant cash.
Design
Tecno Phantom V Fold: 299 grams

Folded: 159.4 x 71.95 x 14.15 mm
Unfolded: 159.4 x 140.4 x 6.9 mm
Colours: Black and white options, recycled plastic back

Samsung Galaxy Z Fold 4: 263 grams

Folded: 155.1 x 67.1 x 14.2 mm
Unfolded: 155.1 x 130.1 x 6.3 mm
Colours: Graygreen, Phantom Black, Beige and Burgundy
Both devices share a similar form factor, in that they work like a regular smartphone when folded and can transform into a tablet when unfolded. The Tecno is slightly larger and heavier than the Samsung, but that means that its outer display is shaped more traditionally, and the interior display is larger too.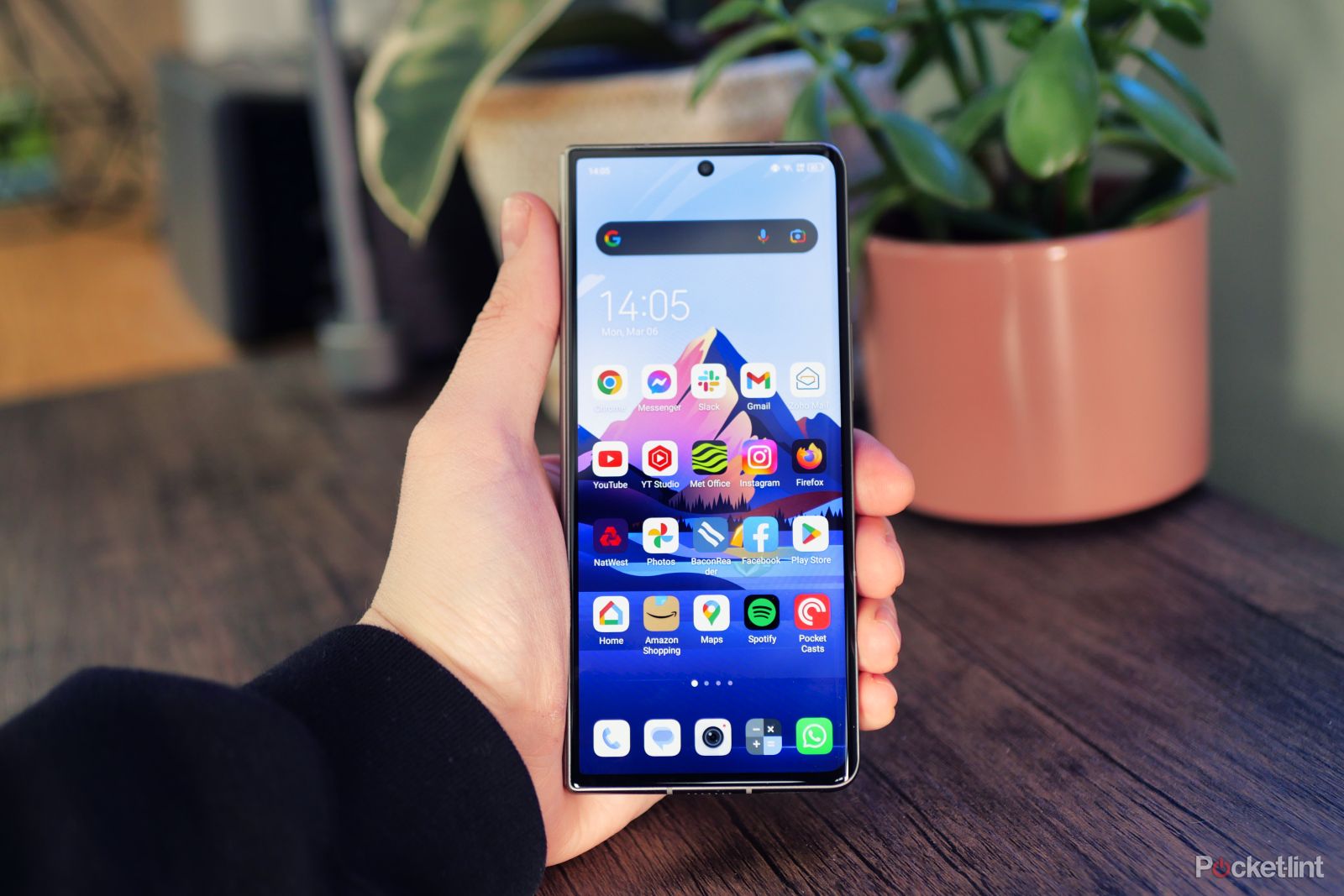 That said, the Z Fold 4 is already a heavy device, so you'll really feel the bulky Tecno in your pocket. It's up to you whether the larger screens are worth the heft.
When it comes to aesthetics, both devices have a premium look and feel with similar aluminium frames. The Z Fold 4 offers more colour options, with four shades to choose from, and all options utilise a matte-finish glass back. The Phantom V Fold is available in either black or white options, with both colours having a textured recycled plastic back.
We really like the unique look and feel of the Phantom's plastic back, which feels like some sort of fancy craft paper and is both grippy and fingerprint resistant. However, we can imagine that others won't be so keen, and there's something to be said for the luxurious feeling of Samsung's matte glass rear.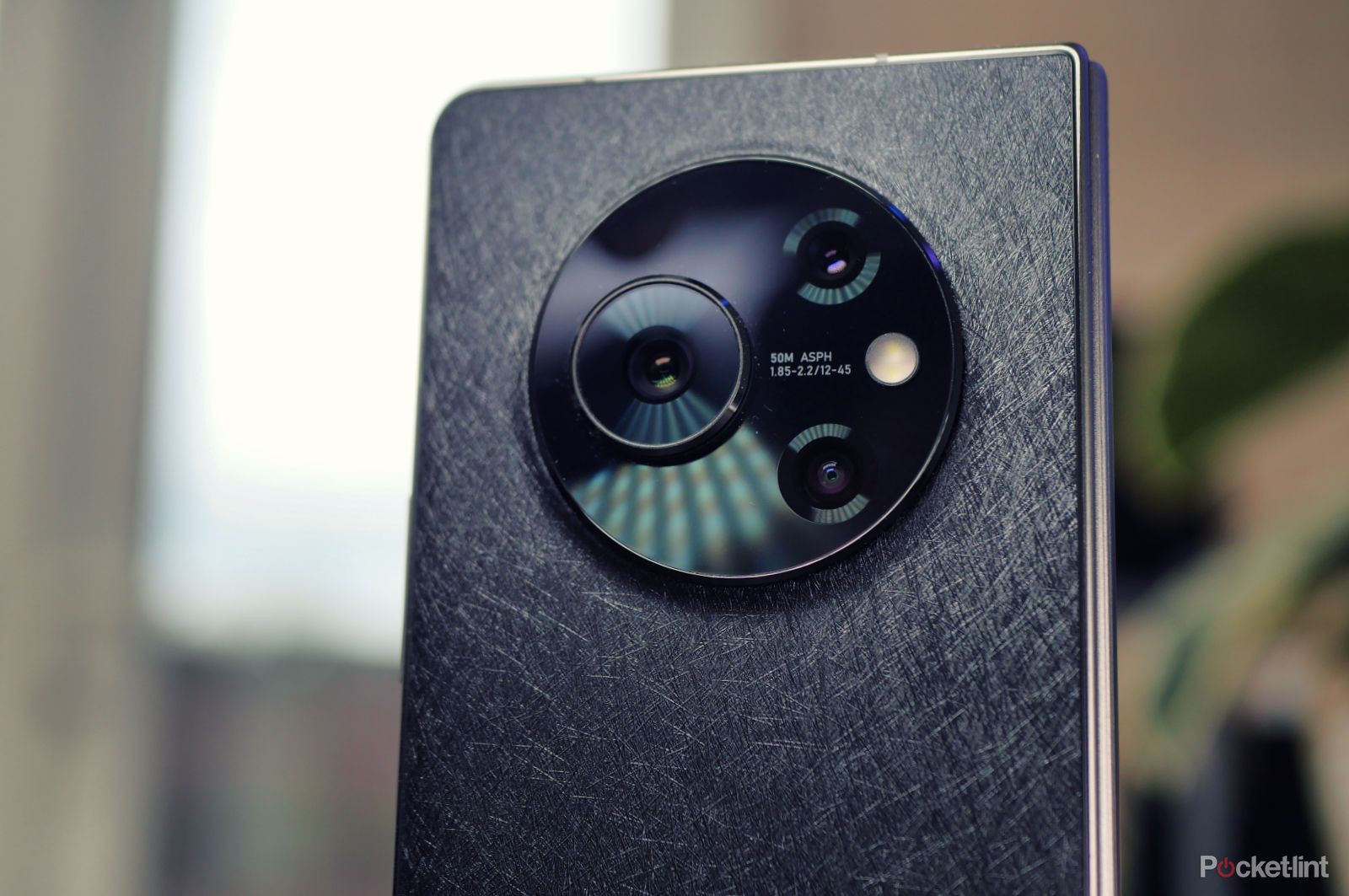 Both devices have fingerprint readers that are located on the power button on the right-hand side of the phones. Both work well, but the Phantom V Fold is far more prone to accidental activation, which can be irritating. Conversely, the Z Fold 4 impressed us with its accuracy.
The Z Fold 4 has IPX8 water resistance, whereas the Tecno Phantom V Fold carries no such rating. There's still a degree of water resistance, but you'll want to be very careful using it in inclement weather.
Display and speakers
Tecno Phantom V Fold:

Outer: 6.42-inch 120Hz LTPO AMOLED 1080 x 2550
Inner: 7.85-inch 120Hz LTPO AMOLED 2296 x 2000

Samsung Galaxy Z Fold 4:

Outer: 6.2-inch 120Hz LTPO AMOLED 904 x 2316
Inner: 7.6-inch 120Hz LTPO AMOLED panel 1812 x 2176
As we mentioned in the last section, the Phantom V Fold wins when it comes to physical dimensions, benefiting from larger interior and exterior displays. It also has a slightly higher resolution on both of these panels, but it's not likely to make a significant difference to your user experience, in practical terms.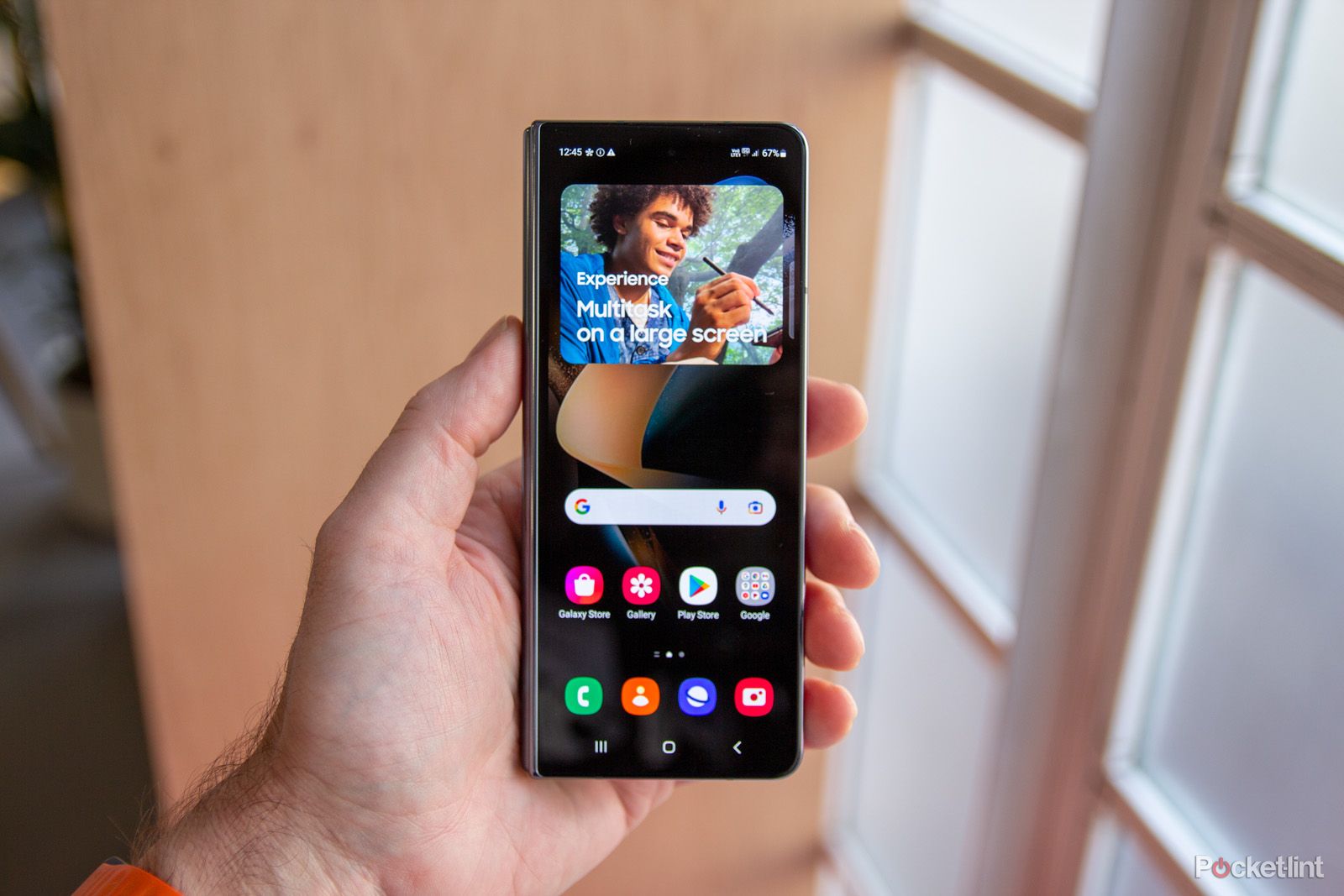 The Galaxy Z Fold has a slight advantage when it comes to brightness, able to output 1200 nits at peak, compared to 1100 nits on the Phantom. This is, again, such a slight difference that you'd be unlikely to notice in day-to-day use.
Both phones have 120Hz refresh rates on both panels, as well as LTPO technology for adaptive refresh rates. Both secondary displays are coated with Gorilla Glass Victus, but the Samsung device uses the improved Gorilla Glass Victus+. This is said to have higher scratch resistance.
The interior display on both devices has a visible crease, but it's slightly less pronounced on the Phantom. Tecno's phone also has virtually no gap when folded, whereas the Z Fold still has a sizable gap.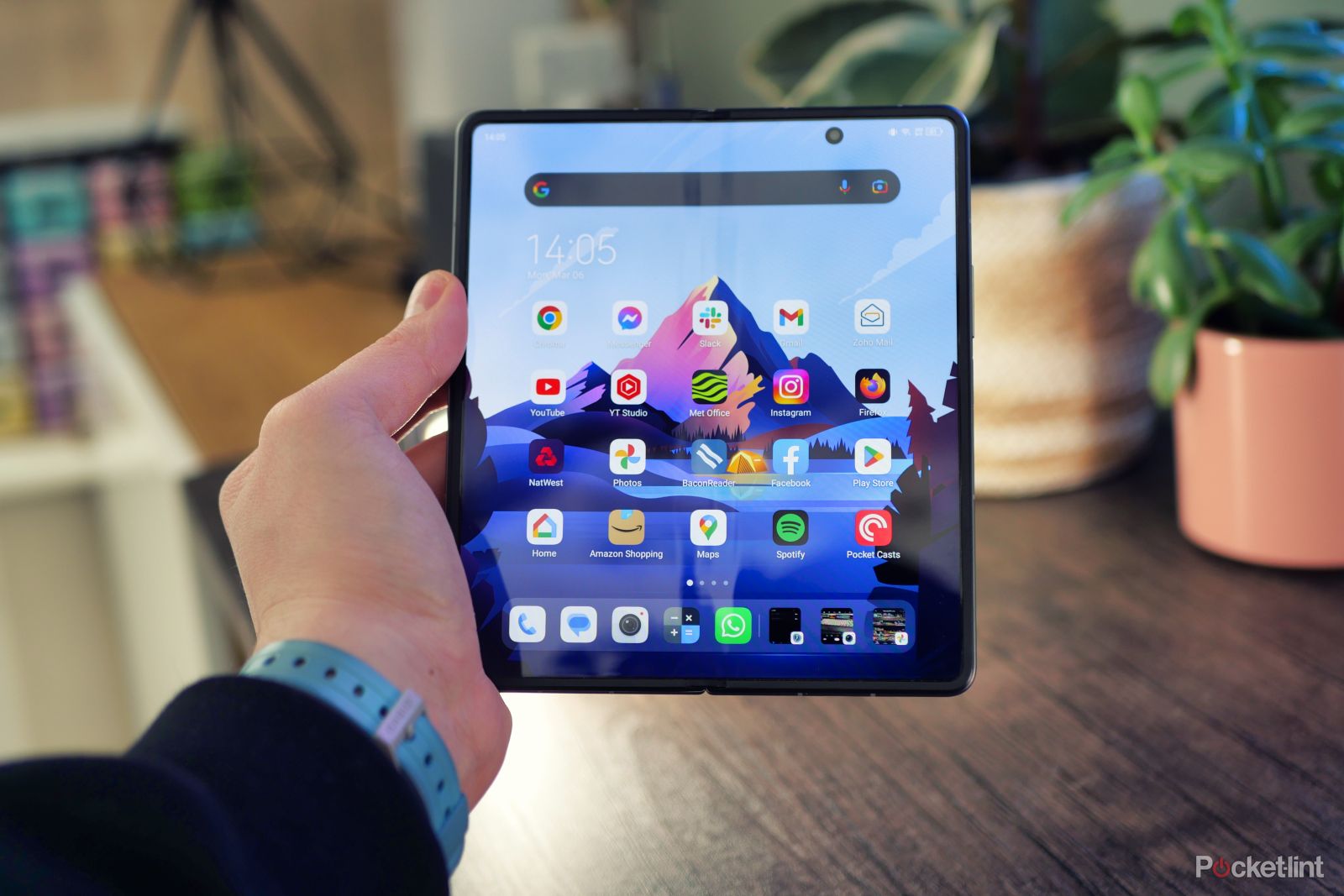 However, there's a big upside to Samsung's hinge, and that's that it can be positioned in a variety of angles, allowing you to use the Z Fold like a tiny laptop. The Tecno can only be used open or closed, with the hinge mechanism gently springing it into place.
The Z Fold 4 also benefits from an uninterrupted interior display, thanks to the use of an under-panel selfie camera. The Tecno has a punch-hole selfie camera instead, and while it's not the biggest issue, the positioning irritated us a bit, as it edges into the corner of full-screen 16:9 content.
Performance and software
Tecno Phantom V Fold:

Dimenisty 9000+
12GB RAM – 256 / 512GB storage
HiOS 13 Fold (based on Android 13)

Samsung Galaxy Z Fold 4:

Snapdragon 8+ Gen 1
12GB RAM – 256 / 512GB / 1TB storage
Android 12L / One UI 4.1.1 – updatable to Android 13 / One UI 5.1
Both devices run on 2022 flagship chipsets, and though neither is the latest and greatest available, they're both extremely powerful devices that are capable of multi-tasking and high-fidelity gaming.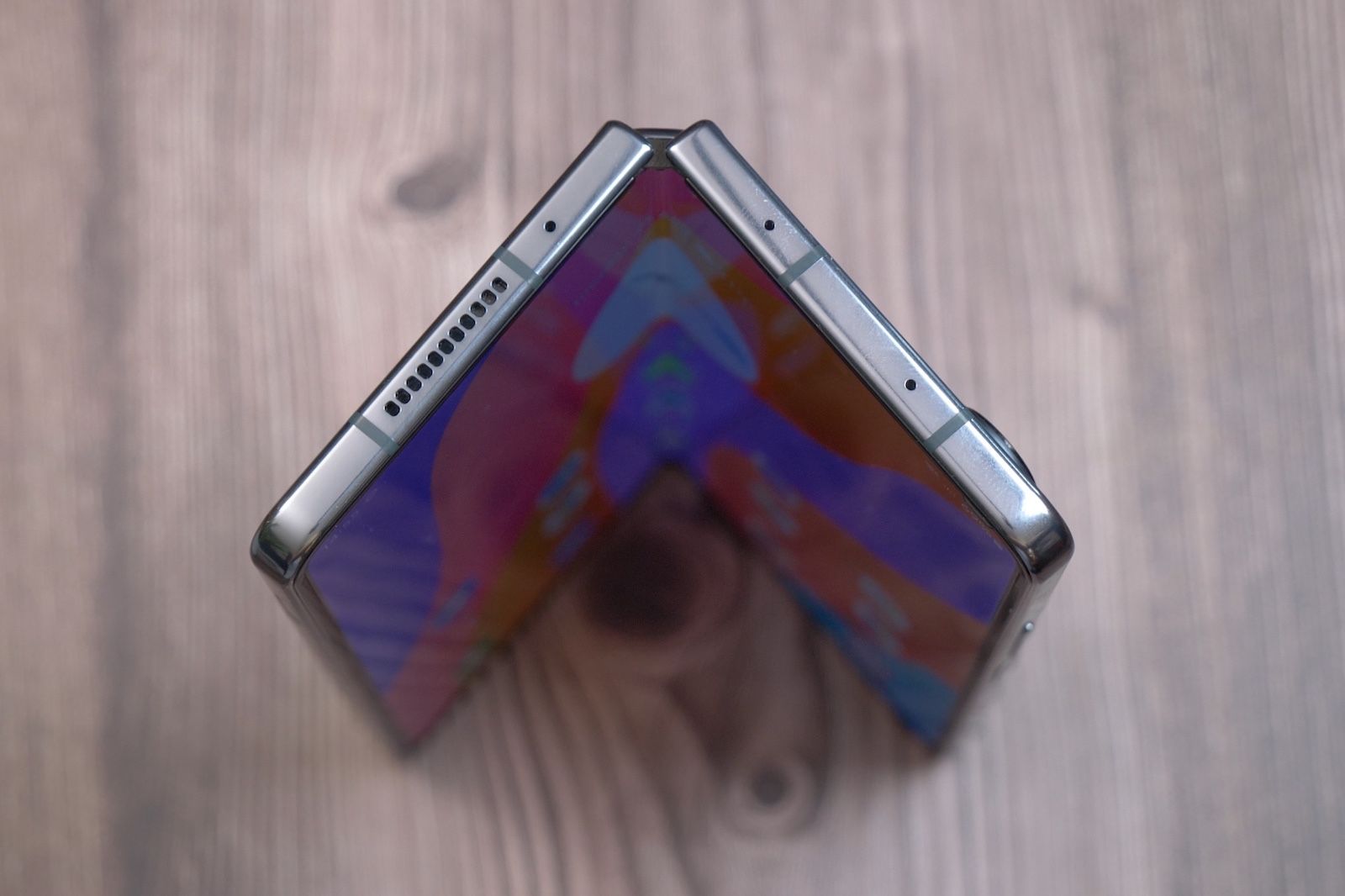 Both phones come with 12GB of RAM and 256GB of storage as a minimum, the Tecno can be configured with up to 512GB storage, while the Samsung can have up to 1TB. The 1TB option is extremely costly, though, so we can't imagine it being a very popular choice.
The Z Fold 4 has been around for a while now, and it initially launched with an Android 12L-based operating system, but it's now upgradable to One UI 5.1 based on Android 13. The Phantom V Fold also runs an Android 13-based skin called HiOS 13 Fold.
Both options have optimisations and multi-tasking features specifically designed for foldable devices. However, we think that Samsung's implementation is a little more refined.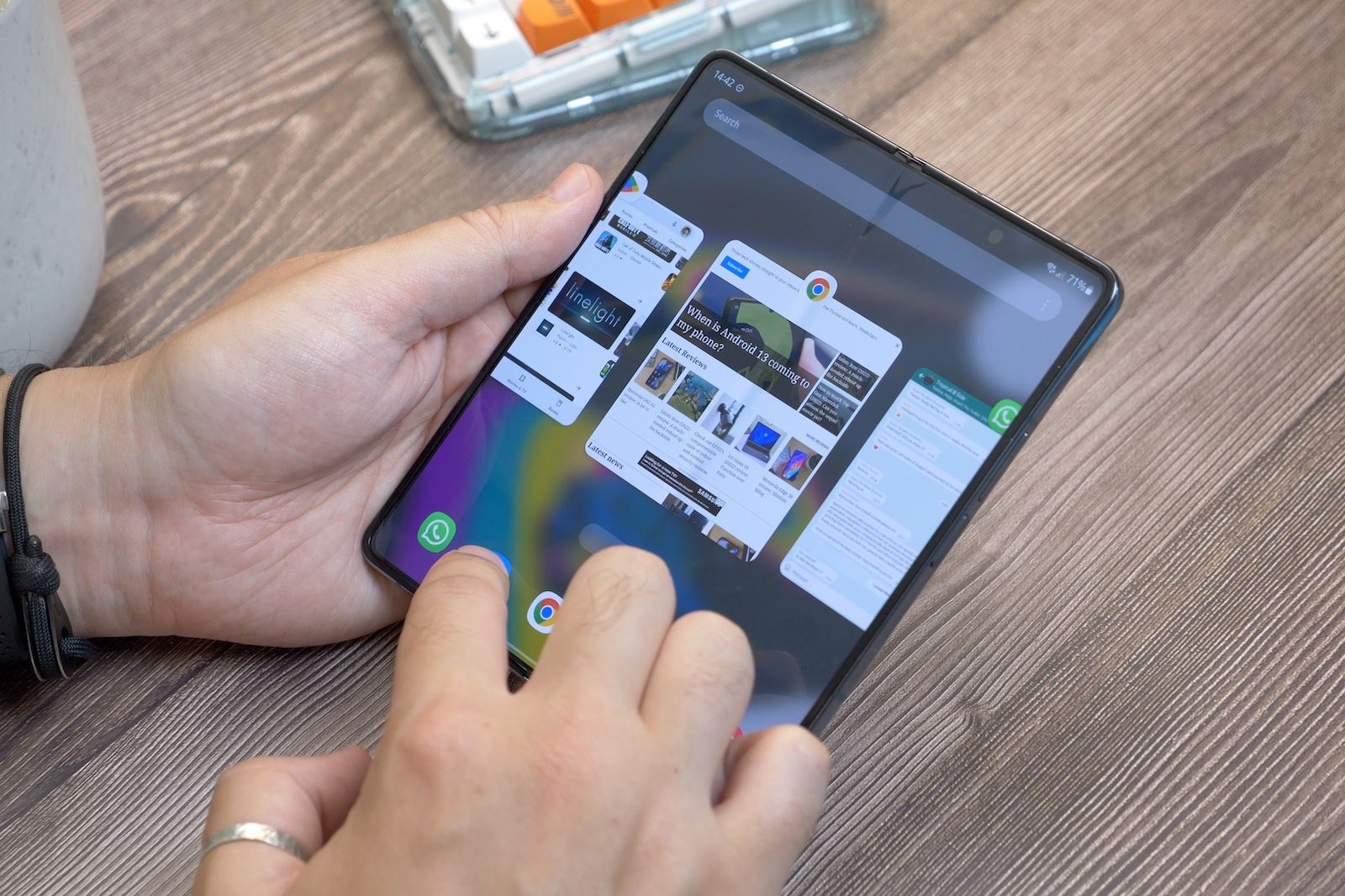 This is to be expected with a fourth-generation foldable, and there's a good chance that Tecno's OS will improve as time goes on, but that's a bit of an unknown at present.
Samsung also offers S Pen support, so you can use the Z Fold 4 for doodling or taking notes, while there's no such option from Tecno. In addition, there's flex mode, which can be used when the device is partially folded, and this opens up a world of possibilities. So, it's safe to say that Samsung wins on the software front.
Cameras
Tecno Phantom V Fold:

Rear: 50MP main, 50MP 2x telephoto, 13MP ultra-wide
Front: 32MP front screen camera, 16MP interior camera

Samsung Galaxy Z Fold 4:

Rear: 50MP main,10MP 3x telephoto, 12MP ultra-wide
Front: 10MP front screen camera, 4MP UPC interior camera
On paper, the Phantom V Fold has superior cameras, so you might think it's the better choice. However, in practice, there's much more to the story.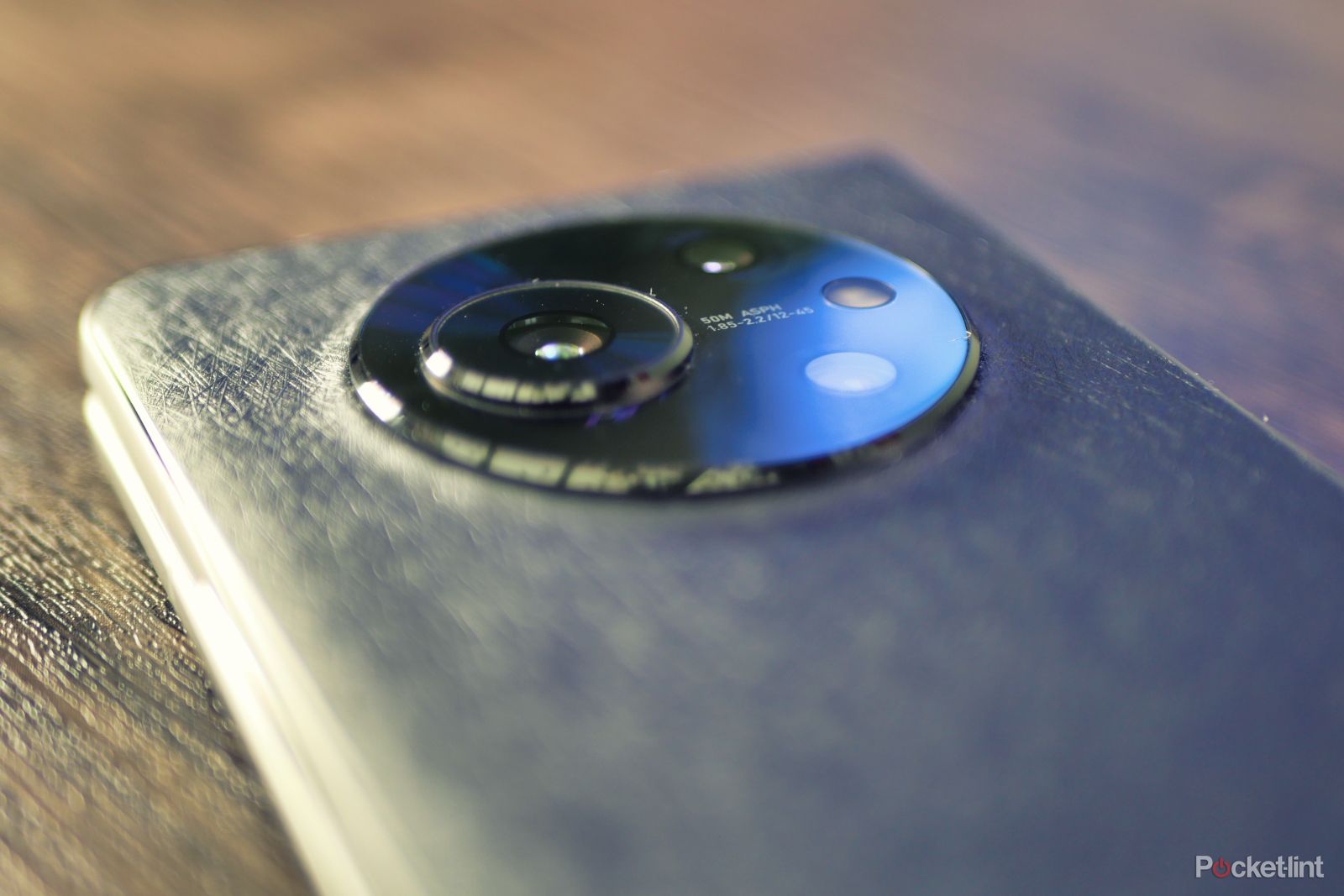 Tecno's cameras are certainly capable, and we were particularly impressed with night mode shooting, but the feature set is lacking compared to Samsung's. Tecno's image processing leaves a little to be desired, too.
Samsung is well-established as one of the best brands for mobile photography, so it's no surprise that the Z Fold 4 produces vibrant poppy images, just like its other smartphones. The Tecno, while often having more megapixels at its disposal, is less effective with its image processing, and you'll often get dull colours and washed-out HDR images as a result.
One area in which Tecno clearly wins out, though, is with the interior selfie camera. Samsung uses a 4MP under-panel camera, which allows for an uninterrupted display, but at the cost of image quality. The Tecno's more traditional interior selfie camera is the weakest of its array, but it's still significantly better than the UPC.
Verdict
So, which one should you get? Well, as usual, that depends on your needs, and your budget.
In our view, the Samsung Galaxy Z Fold 4 is the superior device, owing to its superior image processing, more refined software, S Pen support and variable hinge angles.
However, the Tecno Phantom V Fold comes astonishingly close to offering the same experience, at almost half the price, which is exceptionally good value.
It also wins out in a few areas, the outer screen is more traditionally shaped, which makes folded use feel much more natural, and the interior screen is bigger and has a higher resolution, too.
Whichever phone you choose, we think you'll have a great experience. In our opinion, they're two of the most appealing foldable phones on the market today.